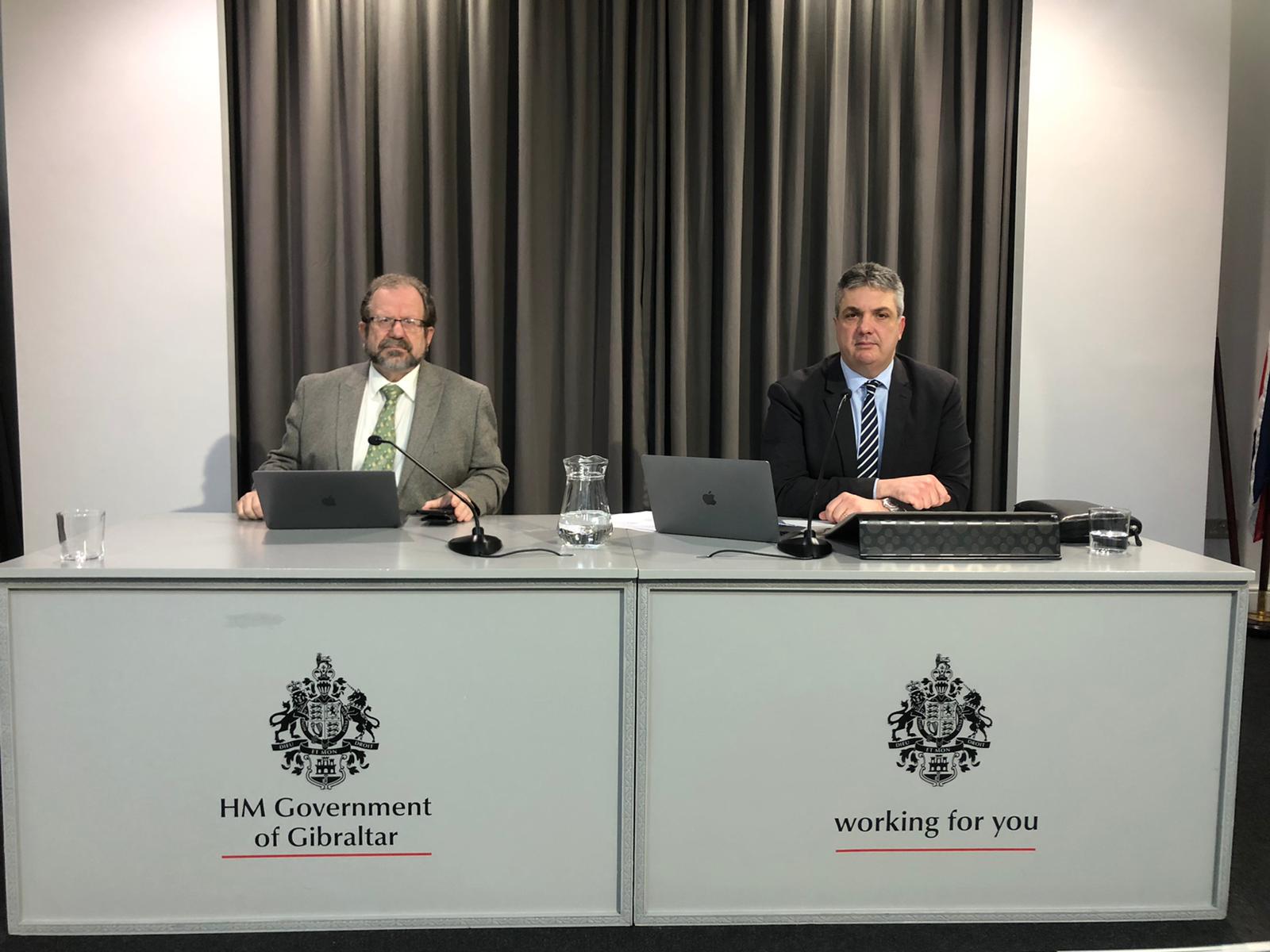 Minister Cortes' Statement - Sunday COVID-19 Briefing
Here's the full text of the opening and closing statements from the Minister for Public Health Dr John Cortes at this afternoon's information briefing: 
Good afternoon from No 6 Convent Place, to another of our daily updates on COVID-19, today Sunday 26 April.
I am joined today by our hardworking, tireless Civil Contingencies Co-ordinator, Ivor Lopez.
This is the 41st time since the pandemic began that you may have tuned in at 4pm for an update on the COVID situation.   It's in fact press conference no 39 as we had the Easter messages by the Chief Minister's and the Governor during this time.  
I think that most of us by now know that we are still learning much, and have much to learn about this virus and the disease it causes - COVID-19. 
On Thursday, together with Minister for Health and Care Paul Balban, Director of Public Health Dr Sohail Bhatti and Dr Krish Rawal, GHA Medical Director, and thanks to Dominique Searle our London representative who also facilitated it, we had the second of our video conferences with Professor David Heymann.  
Professor Heymann is a recognised world expert on Infectious diseases, Public Health and Global Health. 
Previously he was the World Health Organisation's assistant director-general for health security and environment, and representative of the director-general for polio eradication. 
From 1998 to 2003 he was executive director of the WHO Communicable Diseases Cluster, during which he headed the global response to SARS, and prior to that was director for the WHO programme on emerging and other communicable diseases. 
He also worked in Africa on Ebola and in India on their smallpox eradication programme. 
He is currently a professor of infectious disease epidemiology, at the London School of Hygiene & Tropical Medicine and is a member of several WHO advisory committees, including on COVID-19.
Once again it was a very useful meeting in which we were able to discuss Gibraltar's strategy and at the same time learn about current developments first hand.
It was a privilege to spend time talking to such a recognised expert and to gain direct information at WHO level. 
Prof Heymann confirmed that there are still many unanswered questions on community spread and immunity. People with mild infections do not have much by way of detectable antibodies.
There are four well known human coronaviruses which cause the common cold. Then there are the three new ones, SARS, which is virtually eliminated, MERS, which still occurs in camels with occasional transmission to humans, and SAR-CoV-2 which is the one that causes COVID-19. 
This is one which as we have seen does pass from human to human more easily. However, due to this lack of detectable antibodies we are still not clear about the extent of community transmission. Which is one of the reasons why we have to take all the precautions that we have to take.
It is becoming clear that this virus can be contained by maintaining distance, and the other well-known methods like washing hands, using gel, catching sneezes, etc., in a way that the flu cannot be contained. He stressed that this coronavirus does not spread as easily as influenza.
The following day, Friday, he was attending a WHO meeting at which the latest advice on immunity was going to be agreed; and we got a fascinating preview of it. In fact the document was released yesterday.  Once again, although not going as far as stating that you definitely can catch COVID twice, the kind and extent of immunity you gain when you overcome it is not clear. That is, you don't get an 'immunity passport' once you've had it and so even if you have, had it, you still have to follow all the guidelines. 
Masks 
We were able to discuss the matter of masks, and he summarised the position on masks based on the latest evidence. He confirmed that wearing of masks stops the wearer from spreading the virus but does not protect the wearer significantly him- or her-self. 
Therefore, it is recommended in enclosed places where full social distance cannot be maintained in order to reduce the chance of spread especially by those with the virus but without symptoms and those accessing vulnerable people through age or condition.  But, and I repeat:  it does not significantly protect the person wearing the mask.
Vaccines 
It was confirmed to us that testing in UK of the 'Oxford vaccine' has begun. Because it is based on an existing vaccine already tested on humans the process could be quicker, as it does not first have to go through the process of testing on animals.   We will have to wait and see how successful it is.
Lifestyle 
Once again Prof Heymann stressed the importance of healthy lifestyle and of the need to work more in the future on preventing poor health and not just in the health services that treat illness. 
Gibraltar/unlocking 
Professor Heymann was complimentary about the steps that we have taken in Gibraltar and our successful strategy so far.  Like we do regularly, he warned about complacency and stressed that we need to keep reminding ourselves of the danger that this virus still poses.
This is something that the Government has very much in mind as it discusses and considers the next steps.  Rest assured that every aspect is being considered, based on public health advice, and conscious of the need of getting our lives and our economy back on track as soon as it is safe too do so.  You will be hearing a lot more about this very soon.
I can tell you that in my own Departments we are looking at ways in which we can safely re-engage in any areas where we may have been pausing.  So we are looking at ways of re-opening the Museum and Libraries, as well as exhibitions, and other aspects of our rich cultural life.  We will be talking to dance schools and academies about this in the next few weeks.  Indeed as DCM stated on Friday we have been working through the weekend on producing a plan which we will be discussing at Cabinet tomorrow and which when agreed, will be published very soon. 
Now for today's figures.
A&E
At A&E, in the 24 hours to 8.30 this morning, there were 26 attendances.  Of these only 4 were  of persons with COVID symptoms.  All four were swabbed, but there were no admissions to either of the CIOVID wards, John Ward or the COVID CCU.
HOSPITAL BEDS
There are no patients in the COVID Ward (John Ward).  There is one in the COVID Critical Care Unit, but it is a patient who has tested negative and so will be moved.  So there are no COVID patients currently in our hospitals. 
TEST RESULTS
The latest test results are not quite as reassuring:
This represents an additional 9 positives in a week after a lull of about a week with no increase. 
While these are clearly still not massive numbers and certainly nothing to panic about, they do act as a sobering reminder that the virus is out there still.  
And we need to think about this.
Did we drop our guard over Easter Weekend?  Or last weekend with the glorious weather?  
Are we getting over confident and giving the virus another chance? These are all questions we must ask ourselves. 
If we want to transition back soon we must not drop our guard. We must be more aware than ever and act accordingly. 
We must keep our distance.  We MUST wash our hands.  In work places in particular we must keep surfaces clean.
And now:
In order to update us with is much that's going on.  So much work by so many people, to whom we must all be so grateful, I hand over to Ivor Lopez.  
***IVOR LOPEZ SPEAKS***
Ivor,
So many people doing so much.  Gibraltar has really come together.  Remember those also doing their day to day work from home or from the workplace keeping Gibraltar ticking.  Thank you all.
This week, probably for the first time, I said to myself several times that I was a little fed up of this.  I think many of you will know what I mean.  We are human after all. And being human is what makes all this so difficult.  We are a social species.  We thrive on being together.  In Gibraltar we hug, kiss, shake hands.  
This thing is somehow depriving us of much of what makes us what and who we are.
But then, think of what is still happening out there.  How tens of thousands have died.  20,000 in the UK.  50,000 in the US.  
Real people, most of whom would still be alive today.  
Then the sacrifices we are making, the yearning for social contact, for going out, to the cinema, to the beach.  All these sacrifices become worthwhile.
We must not forget that this thing is still out there.  That we have contained it, but it is invisible and ready to strike back.
There is a better future ahead. We will have learnt about our vulnerability. We will have learnt about behaving differently, being more careful in social interactions. About keeping healthy. 
Science and medicine will, I am convinced, give us the tools to contain this and allow us to get back to much greater normality- a cautious normality - where we can all smile - and hug - again. 
So let's beat it. Let's not forget we still have work to do. 
So please keep to our advice. Stay home.  Wash hands.  Keep your distance.  
When we start releasing the restrictions, then is the time to be even more aware, even more wary.  To be more conscious of distance, to wash hands more, to make sure you stay at home if you have symptoms and call 111.  
All this will be even more important soon when we start to venture out more and go back to work, to school, and elsewhere.
Please.  We CAN beat this.  The better we follow the advice the sooner we can get out and live a more normal life and the less likely it will be to then have to reverse.  
Make all that we have done be worth it.  Stay home.  Stay safe.  Save lives.
Remember the symptoms to look out for:
Fever, a new cough, sore throat, fatigue/muscle pain, being unable to complete a sentence without snatching breath and possibly: headache, loose motions, loss of taste/smell & appetite.
If you have these, 
CALL 111
For other COVID-related enquiries call 20041818. 
If you are unwell with other things, don't neglect your health. The GHA is there for you too. Call 20007910. 
If you need a Repeat prescription, call 20007909. 
Emergency 190 or 199
Stay home. Stay safe follow our advice. 
As I said last week, Together we can beat it, but not to close together, eh?
Good afternoon.  Smile soon.