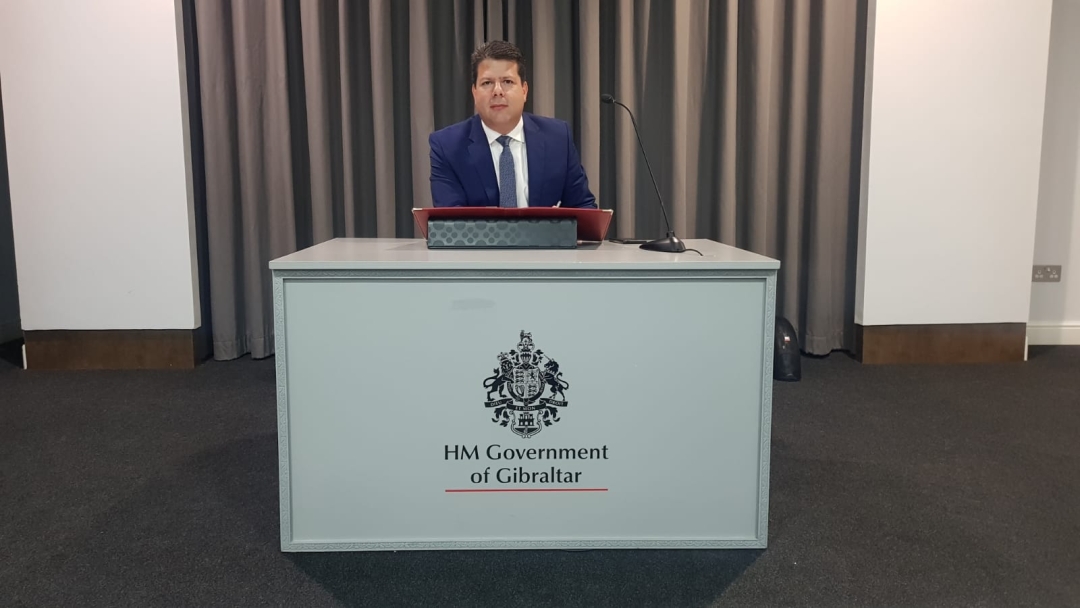 Chief Minister's Statement - Monday 27th July Press Conference
Below follows the Chief Minister's statement from this morning's press conference:
Good morning
Thank you for joining us at No6 Convent Place today for what should have been our last press conference before we UNLOCKED THE ROCK.
It will not be our last press conference and we will NOT be announcing today that we will be moving to ROCK UNLOCKED on Saturday.
The COVID-19 EX-CO met last week.
We took the advice of the Director of Public Health and the Minister for Civil Contingencies.
We are already planning for the autumn and the winter.
We must do everything possible to stay ahead of the virus. 
We are very concerned about the increases of cases in the jurisdictions most relevant to Gibraltar. 
The continued increase in cases in the United Kingdom is very concerning.
We believe that the five active cases of COVID that we have in Gibraltar originate in arrivals from the United Kingdom.
We are also aware of almost 300 clusters active in Spain.
34 of those clusters of COVID-19 are in Andalucía.
Many of us are or will be spending time in the UK, Andalucía or Portugal in coming weeks. 
The latest clusters reported are in Sevilla and Córdoba.
Many linked to family parties and youngsters going out at night.
Morocco remains in public health lockdown until 10 August.
Local lockdowns have been implemented over the weekend in 8 towns including Tangier in Morocco.
The fact is that Europe itself may be in second wave already although nobody is yet using that term.
Morocco is still battling its first, persistent wave.
In the circumstances, I want to fall back on a simile referred to by Dr Bhatti in months past when he described Gibraltar as sitting like a dry bush between two raging fires.
We appear to remain in that situation today.
And we need to ensure that nothing we do can propagate the fire in our direction.
For that reason, we will this week be making an assessment of what posture we will be able to take from the 1st of August.
We are not ready to announce that today because things are moving very, very quickly indeed.
We want to make the best decision for our people and our economy and not just for the 1st of August but for the rest of the year and beyond.
In those circumstances, I will be convening a further press conference for Friday at 11am, when I expect to be able to say more about the posture we will be taking for August.
I know people and businesses need to plan.
I will therefore share with you that the advice we are receiving at the moment is NOT to move to unlocking.
We are likely to hold at PHASE 6 with certain modifications.
We continue to take advice on whether masking should be made compulsory, at least in enclosed areas. 
Again, I am telling you where our thinking is because we are being totally transparent with you.
We do NOT at this stage envisage a further lockdown and we do not envisage difficulties at the frontier.
But we similarly do not envisage an easy move towards unlocking. 
The key, as ever, will be your help and your support.
Each one of us has a responsibility to assist the community by each of us following the rules on hygiene etc. 
Please follow all of the rules also when you are away.
Given the clusters we are seeing in Spain, please make sure you follow the Spanish rules when you are in Spain.
The same of course, applies if you are travelling to Portugal, to the United Kingdom or Morocco. 
There are also new rules on the use of masks in the United Kingdom.
You will also be aware of the new quarantine rules which the UK has implemented as from yesterday on arrivals from Spain.
Those rules do not presently apply to arrivals from Gibraltar BUT you will be required to disclose, if you are arriving from Gibraltar, if you have been in Spain in the past 14 days.  If you have, then you will need to quarantine on arrival in the UK if you are not in the exempted classes of persons.
We continue to seek clarification from the United Kingdom's Department for Transport in respect of these rules.  
Finally, let me give you the updated figures for today on testing and active cases:
Gibraltar continues to be a world leader when it comes to testing for COVID-19. 
Total number of swabs taken in Gibraltar is 19,731.
Only 1 result is presently pending.
Negative swabs have been returned in 19,519 of the tests undertaken.
185 positive swabs have been confirmed.
Today, there are 5 active cases in Gibraltar.
2 are residents of Gibraltar.
And 3 are visitors to Gibraltar.
All 3 are at home or in other accommodation in self isolation.
None has required hospitalisation to date. 
The mobile testing or swabbing will be deploying throughout Gibraltar this week again. 
Today, they have been at the Piazza from 8am until half past midday.
Tomorrow, Tuesday 28 July they will be from 8am until midday at the Caleta Hotel.
On Wednesday they will again be at the Piazza from 8am until half past midday. 
Then onThursday through until Saturday 1st August they will be at Morrison's Supermarket from 7.30am until half past midday, except on Saturday when they will end at half past 11.   
You are free to attend if you want a test.
In summary, in view of the deteriorating situation across the Continent and across the planet it makes perfect sense to be cautious.
There are now almost 16 million confirmed cases in the world and over 640,000 people have lost their lives to COVID-19. 
The focus is on the United States with more than 4 million confirmed cases and over 143,000 deaths, Brazil with 2.3 million confirmed cases and over 85,000 deaths and India with 1.4 million cases and over 32,000 deaths.
But the number of cases is on the up around us also.
For that reason, on public health advice we are considering remaining in Phase 6 with certain modifications. 
I will say more on Friday, and for now there will be no change. 
I will now take questions from the members of the media who are with us today at No6 Convent Place.