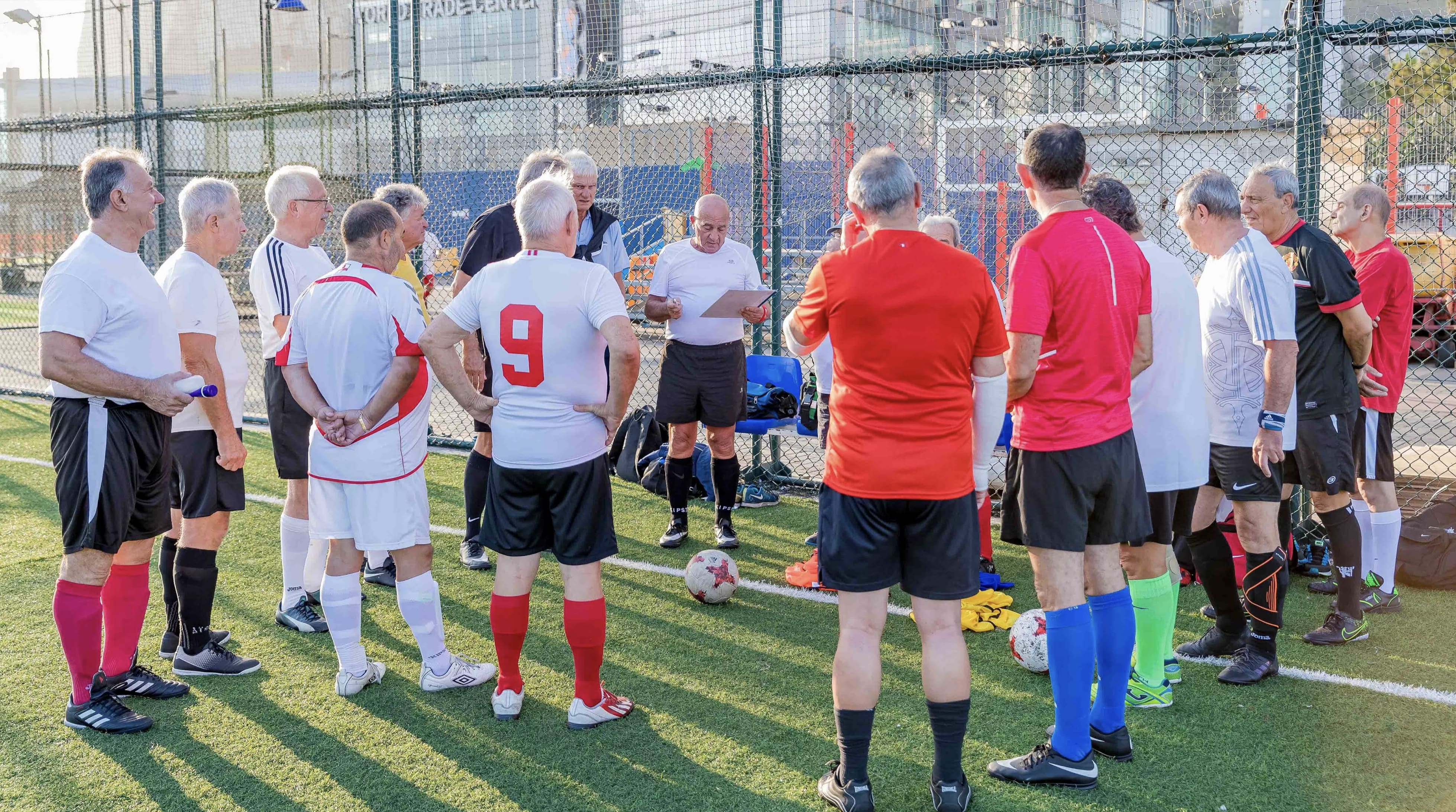 Gibraltar's Walking Footballers Celebrate Their 7th Anniversary
Today Gibraltar's Walking Footballers celebrate their 7th anniversary. The group has grown to a total of 60 members ranging from 60 years of age to 84 years.  
A statement from the GFA follows below:
On the 15th January 2016 a small group of senior citizens led by Gerry Britto and Charles  Fortunato met at the Victoria Stadium to play a form of walking football, which was already  practiced in the UK and other European countries. Today after 7 years that small group has  grown to a total of 60 members ranging from 60 years of age to 84 years.  
Walking football was devised to enable senior citizens to enjoy a game of football in a safe  and enjoyable environment. Safety is paramount so all the Laws of walking football are geared  to prevent accidents thereby avoiding injuries. It enables players to exercise on a regular basis  and thus keep fit within their limitations. It also creates a forum for fellow football enthusiasts  to gather and socialise. There are players who have played first class football and others who  are new to the game but are keen to learn. The way the games are devised takes all these  factors into account. 
Walking football is run by a committee which is supported by the Gibraltar FA (GFA) and all  the players are registered with the Association. All players have to undergo an annual medical  examination, covered by the GFA, to be certified fit to play. The GFA provides financial and  human resources as well as playing kits and training venues. The GFA registers and financially  supports travel and accommodation for our walking football squads to participate in  international competitions.  
Throughout Walking Football's short history on the Rock all teams are wearing the Gibraltar  National Team kits and colours whilst representing Gibraltar, and in the past seven years,  teams have participated in international tournaments in the UK, Spain, France, Denmark,  Portugal and Switzerland thus establishing international recognition and reputation. In all of  those tournaments Gibraltar's Walking Footballers have registered creditable performances.  The best of which was in Paris in 2020 when an over 65 team were the winners in their age  group in the Super masters 5-a-side World Cup Football tournament.  
Participation in Walking Football international tournaments and matches has made possible  by our affiliation with the GFA, and sponsorship from The Gibraltar International Bank and  Gibunco. 
Congratulating Gibraltar's Walking Footballers on their seventh anniversary, Gibraltar FA  General Secretary, Ivan Robba stated:
"It is fantastic to see how Walking Football has grown since Gerry and Charlie kicked it all off  seven years ago! Their regular training sessions, three mornings a week, at the Victoria  Stadium are some of the most competitive sessions you are likely to experience, and it is  wonderful to see the camaraderie and footballing friendships that have been rekindled. 
Walking Football, apart from its social benefits, contributes significantly to the health and wellbeing of its players, who have also now become ambassadors for Gibraltar, travelling to international tournaments and putting in some great performances along the way too. I  would like to congratulate everyone involved in Walking Football for the way they have grown  over the past seven years and look forward to continuing working together with the  committee to develop Walking Football on the Rock."