★GibFibreSpeed IPTV service includes all your favourite sports and movie channels for £17.50per month★- Advertorial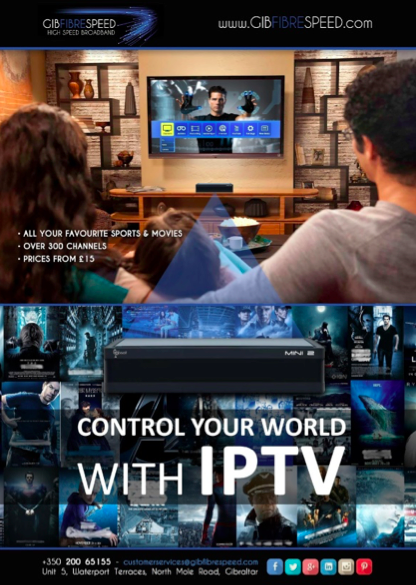 Control your world with IPTV
Following on from our announcement of our upgraded Fibre TV services, we also have an IPTV service on offer.
IPTV is basically TV over the internet; there are a number of different features available with this service which you may not be too familiar with.
Get 20Mbps Broadband & our IPTV service from £17.50 per month – sign up online, it's quick and easy: www.gibfibrespeed.com/order-now
Features
Firstly, using the IPTV box you will have the ability to catch-up on 20 pre-selected channels with 2 weeks of archived programmes.
Using a storage device (USB) you are able to live pause and rewind any programmes, with this storage device you will also be able to record on ALL programmes.
This service also includes an Electronic Programme Guide, so you are able to view which programmes will be coming up next.
Channels
The box has 93 HD channels including your favourite sports and movies. You can also use this box in parallel with your satellite TV service adding to your overall number of channels.
IPTV boxes cost £73, to view all these features you must purchase one box per TV.
GibFibreSpeed Contact Details
For further information you can contact us on 200 65155 or E-mail: This email address is being protected from spambots. You need JavaScript enabled to view it.
Find our store at: www.gibfibrespeed.com/contact