Sep 20 - Cleaning Up the World Once More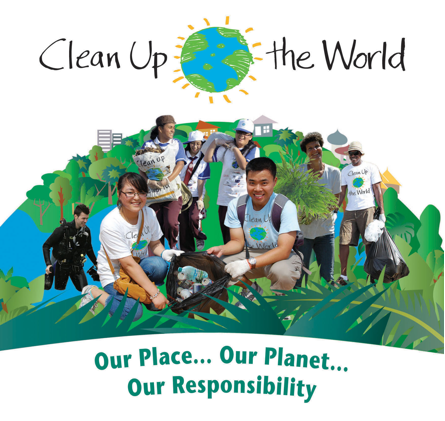 Tomorrow sees Gibraltar's 9th participation in the inspiring global Clean up the World campaign.  CUTW Australia, founders of this great campaign say, "The estimated 35 million volunteers, who take part in Clean Up the World, are taking responsibility for the environment – and the effects are felt not only in the community in which they take place, but right across the planet. Our campaign theme - Our Place… Our Planet… Our Responsibility - highlights how local action – taken by every community and volunteer involved in a Clean Up the World activity – has a global impact."
2013 also happens to be the UN's International Year of Cooperatives highlighting the need for co-operation within communities to achieve a healthier, cleaner, and more sustainable environment. Organisers can truly say that in Gibraltar we achieve this spirit each year with Govt agencies, as well as businesses, schools, clubs and associations, and many more getting behind the event. Gibraltar's outgoing Governor, Sir Adrian John, has stated that he fully supports this campaign and regrets he won't be taking part as he has done for the past few years due to other commitments.
The Minister for the Environment, Dr John Cortes adds that "Government is working hard, together with the ESG and all stakeholders in addressing the concerns of the ESG, which I share.  I fully support both CUTW and the ESG's aims for a clean Gibraltar and am confident that much more progress will be made in the coming year."
Gibraltar 2013 will see over thirty teams tackle 27 sites. Gibraltar's island environment means our waste management has to be of the highest standard to prevent our rubbish from blowing into the sea and entering marine ecosystems. It is well documented that this waste is highly dangerous to marine life and seabirds and that impacts are not only felt locally but can have far reaching devastating consequences.
While many improvements to litter and waste management are underway, there is clearly more that needs to be done and our campaign aims to highlight these in 2013. Problems lie in poor facilities, poor containment, careless littering and inadequate maintenance programmes which result in a Gibraltar that looks shabby much of the time. We shall continue to press for improvements throughout the year and hope the weekend's efforts will help raise the profile of these important issues.
Of the many issues raised by CUTW teams, enforcement is a popular one which many believe could deliver some reprieve in the wanton littering we see from a considerable number in our community. We think consideration could be given to issuing on the spot fines which are affordable, by dedicated litter wardens, who themselves would act as deterrents. We think that negative behaviour would change in the face of a concerted campaign by Government and will also campaign for this, this year.
Our teams will be tackling the removal of rubbish from difficult to access green areas and coastal sites. A fairly major underwater clean up is also planned at Rosia Bay where a number of different bodies will be working together to help remove waste carelessly dumped into the waters.
A team is also heading for Seven Sisters to continue the ongoing project of cleansing and removal of new and historically dumped waste. This also involves many different entities and organisers wish to thank those involved once again for their support.
The Campaign begins with a Parade at 11am from Casemates winding its way to John Mackintosh Square for a short and dynamic event. Here we shall be sharing our campaign aims with all reminding Gibraltar about the widespread nature of our littering issues and how positively the community is responding with the many teams in action, rolling up their sleeves to help our environment. Parents with young families are especially urged to come and see the parade which will be eye catching, colourful and entertaining.
Clean up teams and logistics support include:  RGP Officers, Divers, Recruits; GibDock, Art in Movement; Dept of Environment; St John's Cadets; Environmental Agency; Rotary International Club; Fiduciary Management Ltd; Gib Sub Aqua; Cocoon; Simply Diving; Museum Cave Group; GONHS; Bayside School; Westside School; Lucas family; Scouts; Youth Clubs; Master Services; Wake up Gibraltar; GSLP Youth; Girl Guides; ESG; Alameda Tenants Association; Round Table; GSD; Lloyds; Individual team; Heritage Trust; Gib General Support Services ltd; Wildlife Gibraltar and Bassadone.