Jan 11 - Car Bursts Into Flames On Rosia Road - No Injuries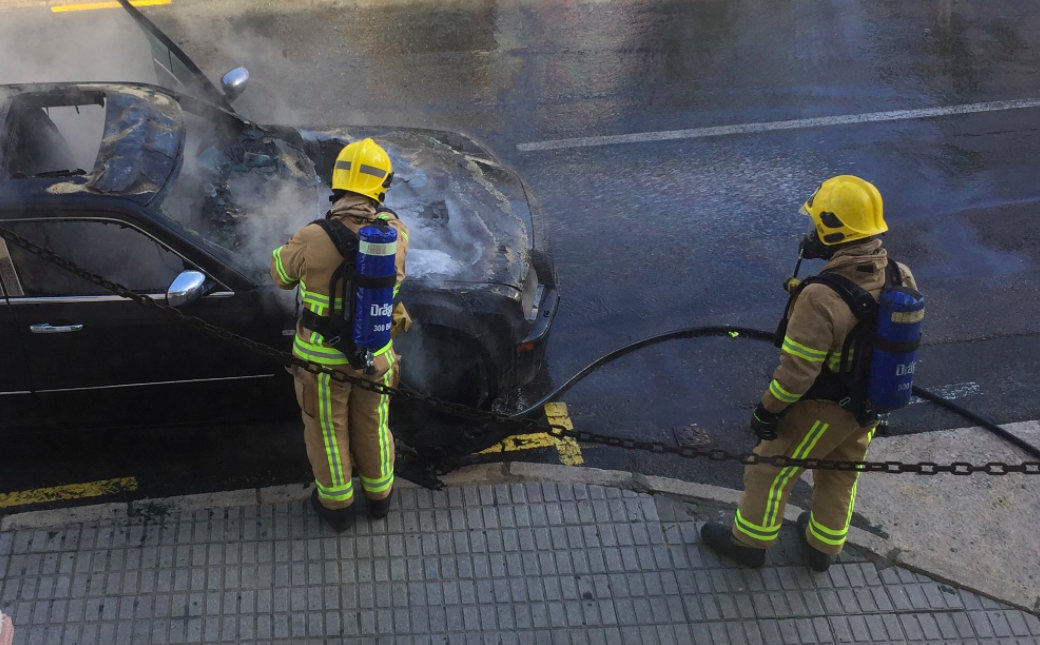 A car burst into flames on Rosia Road just outside Rosia Plaza earlier today, causing a plume of thick black smoke.
There were no injuries after the driver left the vehicle and took out a fire extinguisher from the boot of the black Chrysler, attempting to put out the fire himself.
The fire is believed to have been caused by an electrical or mechanical failure, with the car having been collected from the garage just a few days earlier. 
Firefighters from the Gibraltar Fire and Rescue Service and officers from the Royal Gibraltar Police's traffic department attended the scene after receiving a phone call at around 12.40pm today.
This section of Rosia Road was closed, with traffic being diverted away from the area, while two pumping appliances and a total of eight firefighters attempted to control the flames.
A spokesman for the GFRS explained that the Breathing Apparatus Team deployed and fire was tackled using a hose-reel from one of the appliances.
By 2.45pm, the car was cleared away and Master Services were at the scene to clean the road before the road was opened up to traffic once again.
And eyewitness told YGTV: "We heard shouting outside and saw a black car parked up at the side of the road with smoke coming out from under the bonnet. A Blands bus had stopped nearby and the driver came out with a fire extinguisher in an attempt to put the engine fire out. It was soon apparent that the fire had really taken hold.
"We moved away from the windows because of the acrid smoke and called the Fire Brigade but were told they were already on their way. It took a few minutes for fire fighters to get it under control with foam and a water hose. It could've been so much worse, thankfully it appeared that no one was hurt."
Pic below is a screenshot from a video shared via Whatsapp.