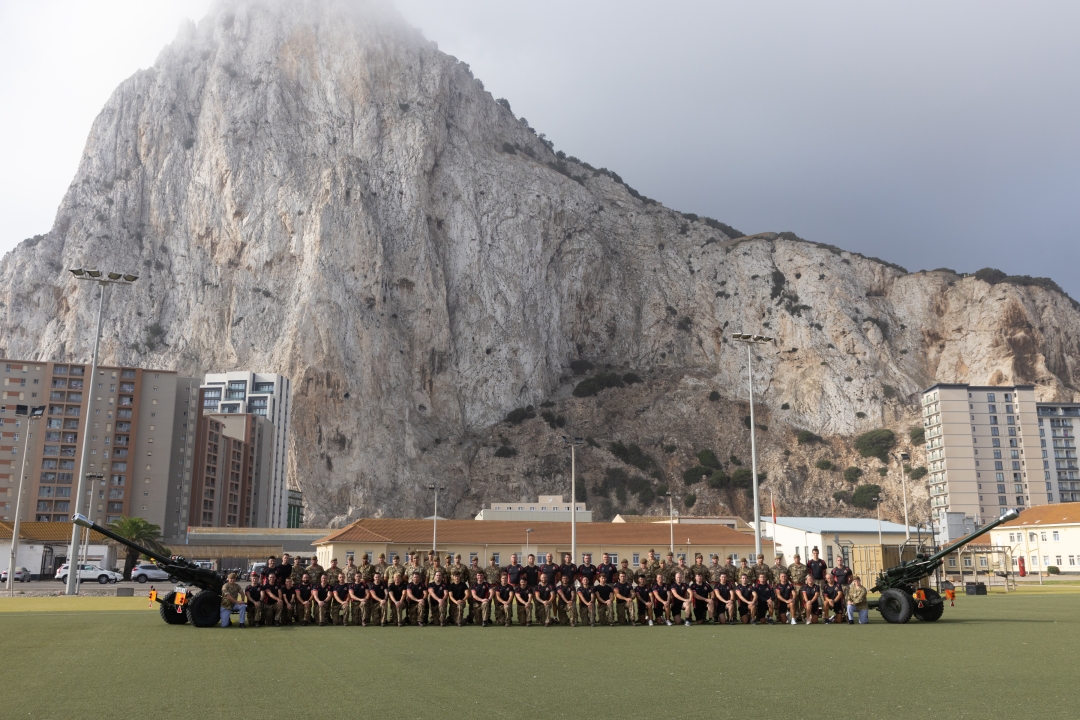 The Royal Gibraltar Regiment Commemorate 50th Anniversary of Formation of Thomson's Battery
The Royal Gibraltar Regiment has commemorated the 50th anniversary of formation of Thomson's Battery
The history of the Thomson's Battery dates back to the 15th of September 1973, when the Battery was named in honour of its first Honorary Colonel, the first commander of the Gibraltar Defence Force Heavy Anti-Aircraft Battery During WWII, Sir Willie Thomson OBE JP. A naming parade was held at the Grand Parade, and it was here that the Battery Trident was presented.
Thomson's Battery Trident consists of a centre prong representing the infantry element of the Regiment and the two additional prongs dedicated to the Heavy and Air Defence troops of the Battery at the time. The staff which supports the prongs is a symbolisation of the role of the permanent cadre. When seen as a whole, the effect is that it represents the letters W and T for Sir Willie Thomson and set against the Royal Artillery's traditional colours red and blue.
To celebrate and commemorate the 50th anniversary of the Thomson's Battery, a reception has been held at Grand Battery House (GBH) on Thursday 14th September for past & serving members of the Battery, and at which family members of Sir Willie Thomson have also been invited. On the 15th of September HQ Coy Thomson Battery paraded with the 105 Lt Guns for a commemorative photograph at Devils Tower Camp.
Major Alex Stone, Royal Gibraltar Regiment, currently serving in Thomson's Battery said:
''I entered Thomson's Battery back in 2022 as Officer commanding HQ company and on the 50th anniversary of all days I am proud to say I will play a part in the Battery's history. Commemorating the 50th anniversary has allowed me to remember those who came before me, and I am honoured to be a part of the Battery's achievements.'