Feb 21 - Regiment Privates Qualify as Assault Pioneers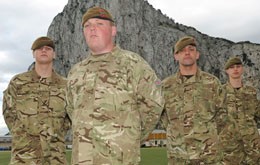 Four Gibraltar Regiment soldiers recently completed a course, dubbing them Assault Pioneers. They group is the first to be qualified in the Regiment. The course was completed by Pte Jayden Attard, aged 19, Pte Sam Hales, aged 21, Pte Robert Hickey, aged 31, and Pte Tom Powley, aged 21.
The course was held at the Gibraltar Barracks in Surrey UK and covers an array of craftsman skills including building water purification systems, targets for ranges, simple demolition, shelter construction and danger fortification.
Assault Pioneers are lineal descendants of the Pioneers who have formed an essential part of armies since at least the time of the Roman legions. Their role is to set the conditions of an operation and make it more comfortable and passable ahead of the following infantryman.
Commenting on the course, Pte Robert Hickey noted, 'the training has been very beneficial with lots of scope and variety in craftsmanship; it is an honour to be within the first qualified assault pioneers in the Royal Gibraltar Regiment'.
The Regiment aims to qualify two further teams by the end of the year. Company 2IC Captain John Pitto added, 'with the future character of conflict being analysed and developed it is a brilliant opportunity for the regiment to start to capitalise and develop further skills in our soldiers, thus making us more employable on a large spectrum of military activities'.