Feb 22 - RGP Training Scheme Launched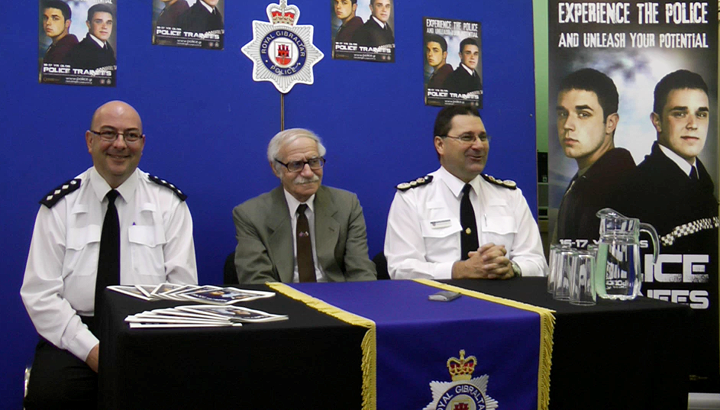 The Royal Gibraltar Police, in conjunction with the Ministry for Enterprise, Training and Employment have today launched the RGP Trainee Scheme which is set to see a small group of 16-17 year olds engage in a vast spectrum of police duties, including engaging in community work projects, learning first aid and a run down of legislation and police discipline, as well as working on live investigations and carrying out attachments to Divisions and Specialist departments.
The Scheme is set to run for 12 month and will include an induction course. Trainees will be paid minimum wage and will be required to work 40 hours a week.  The RGP has obtained the full support of the Ministry for Employment and Training, who will provide funding for the course.
A similar course was operated in Gibraltar during the 1970's and shot a number of the RGP's now most senior officers to success, including Commissioner Eddie Yome. Commenting on the initiative, the Commissioner noted that the scheme is very close to his heart. He added that the course would create a good platform for youngsters leaving school, to consider the Police as a career path. He also stated that it allowed the RGP to market themselves to the youth of Gibraltar.
The course will prepare those involved for a position as an RGP Constable, in the future, but will not guarantee them a job when the scheme is completed. Trainees will be required to go through the same selection process as other recruits if they wish to sign up for the force following the completion of the course. Their training will however provide them will a vast knowledge of police duties and will prove an advantage when applying for the position.
Commenting on the initiative, Minister Bossano said that he was very happy to support the venture. He added, 'I hope it will be very successful and the commitment from the Ministry for Enterprise, Training and Employment is to give whatever help and backup the police require of us'.
Commissioner Yome insisted that he wanted the scheme to prove to youngsters that the Police is not only about fast launches and exciting ventures, but also about caring for vulnerable adults and interacting with the community. He added that it was his aim to teach trainees that these things are the basis of being a Police Officer, with the exciting additions coming secondary.