Apr 03 - RGP Memorial Tree Planting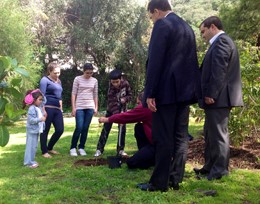 On Wednesday 27 March a tree planting ceremony took place at the Alameda Botanical Gardens in remembrance of the late Police Constable Josie Guilling Savignon, who tragically died recently after being involved in a road traffic accident in Spain (she was accompanied by her partner also a Police Constable namely Jensen Santos).
This ceremony has been the initiative of Neighbourhood Policing Team No.3 of which Josie was a member of.
Commissioner of the RGP, Eddie Yome attended the ceremony and said a few kind words.