Apr 09 - 24 Hour Charity Run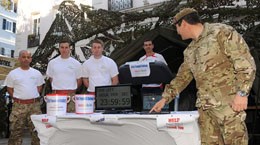 Four members of the Gibraltar Regiment this week participated in an endurance challenge covering a full 24-hour continuous treadmill run, which began at 10am. Members of British Forces Gibraltar raised £2084.10 in aid of a Children's Hospital in Rabat.
The team, made up of Sgt Aaron Smith, Sgt Stephan Llufrio, Cpl Chris Milliken and LCpl Jack Nichols, ran a total of 203 kms. Each soldier ran for an hour on the treadmill, took an hour break and then spent two hours walking around the crowds with the collecting buckets. With them for the whole 24-hour period was RAF Flt Sgt Mick Chapple who looked after the runners.
The RG Band came along for a couple of hours during the day, which helped boost morale and entertain the crowds. Commenting on the event, Sgt Smith noted, 'the night was long and cold and there were cramps all over the place but we were so happy to raise this amount'. He will also be holding a charity Bingo evening on Friday 12th April, and running the Edinburgh Marathon at the end of May.