Mar 15 - Cancer Relief Gibraltar Raise £2337 At Pancake Day Event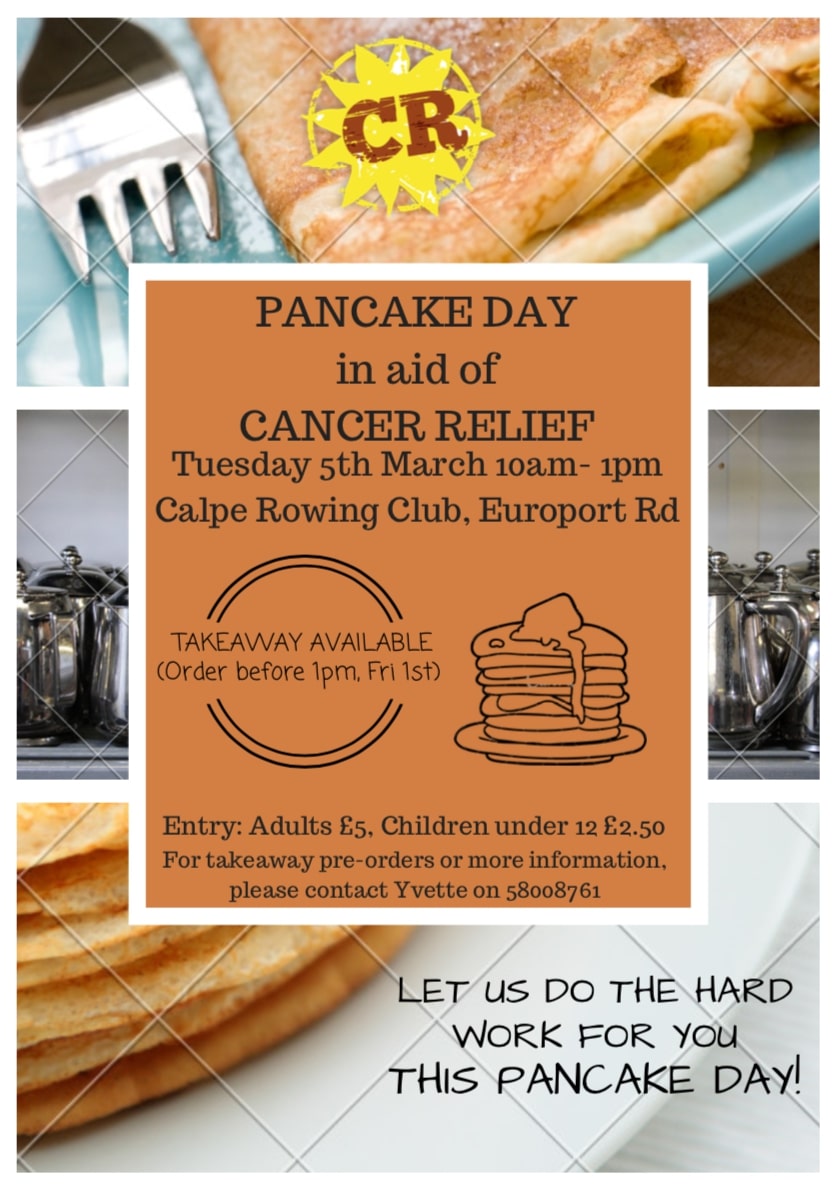 Cancer Relief Gibraltar says their Pancake Day event at Calpe Rowing Club has raised £2337, as well as more donations from other establishments, reaching just over £4600.
A spokesperson said: "Thanks to the generosity of Fastafood Ltd, Saccone & Speed (Gibraltar) Ltd, the Calpe staff and our wonderful team of volunteers we were able to serve more than 800 pancakes to those who came along for a tasty pancake and those who ordered 'take-away' pancakes! Donations are still coming in from other establishments, schools and companies around Gibraltar; to date the grand total of funds collected stands at just over £4600 which is amazing! Our grateful thanks go to all the participating organizations, such as Aqugib Ltd, Bovis-Koala Ltd, Forma-A-Co (Gibraltar) Ltd, the Hunter Group, the Kindred Group, Pancake Factory, Prior Park School, Rising Star Nursery, St Joseph's Nursery and 1st School, St Mary's School, St Anne's Year 6, Time Out and the University of Gibraltar.
"Cancer Relief Gibraltar's purpose is to identify and meet the needs of patients and their families affected by cancer in Gibraltar. We try to achieve this through the many services we offer from diagnosis, through treatment and thereafter.  In order to give an idea of how many people our charity support, last year we received 276 new referrals from patients and their loved ones. All these service users benefit from our services which are offered free of charge. This is why fund-raising is so important to keep the good work going. Put simply we could not support so many people were it not for the generosity of the community."
For more information visit their website: www.cancerrelief.gi or Facebook: www.facebook.com/CancerReliefGibraltar.  
Anyone wishing to donate online may do so by visiting 'Just Giving Cancer Relief Gibraltar'.
For more information on the Cancer Relief Centre or their charity's fund-raising group please call the Centre on 20042392.