Sep 04 - Local Dancer Becomes Registered Teacher At Royal Academy Of Dance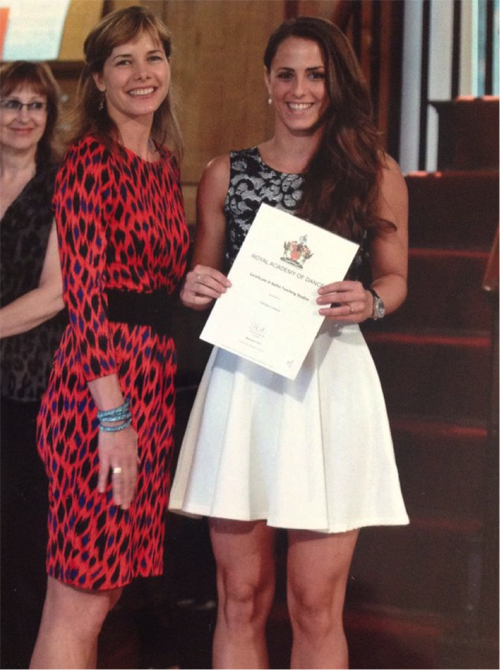 Genyka Celecia has recently graduated this past July as a British registered Teacher in Classical Ballet, at the Royal Academy of Dance.
The Royal Academy of Dance is one of the world's most influential dance educationand training organisations. It seeks to promote knowledge and understanding of dance by educating teachers to become professional dance practitioners. By training and registering at the RAD, Genyka will now be able to offer RAD set curriculum work. This work is then set out as Graded examinations, giving children, parents and teachers the chance to monitor progress and achievement by performing in front of an international external examiner provided by UK headquarters.  
Genyka would like to take this opportunity to thank the Ministry of Culture and the Department of Education for funding this 2 year course and to Paulette Finlayson for being such an amazing mentor and friend.   
On her achievement Genyka Celecia said: "This course has helped me achieve a great satisfaction in helping the youth not only by becoming fit and healthy through the physicality of dance, but also by providing career paths for students in the near future. The qualifications gained from the dance curriculum I offer are recognised in England, Wales and Northern Ireland as part of the National Qualifications and Credit Framework.
"Students taking Grade 4 and 5 are aligned at GCSE level. Grades 6, 7 and 8, Intermediate and Advanced Foundation are aligned with AS/A Levels. These higher grades are even allocated up to 80 UCAS points accredited at University level.  
"Furthermore, I am extremely ecstatic with the new development from the RAD for students aged as young as 21/2 years of age "Dance to your own tune". This means that toddlers can get involved in physical activity by enhancing their creativity and imagination through movement, dressing up, acting, dancing and much more. Through modes of active learning, children develop knowledge in shapes, lines, awareness of their body in space and how it works, counting, anatomy and rhythm without even realising because they are involved in having fun at the same time.''
Pic shows world-renowned Prima Ballerina Darcey Bussell CBE and President of the Royal Academy of Dance, presenting Genyka with her certificate.