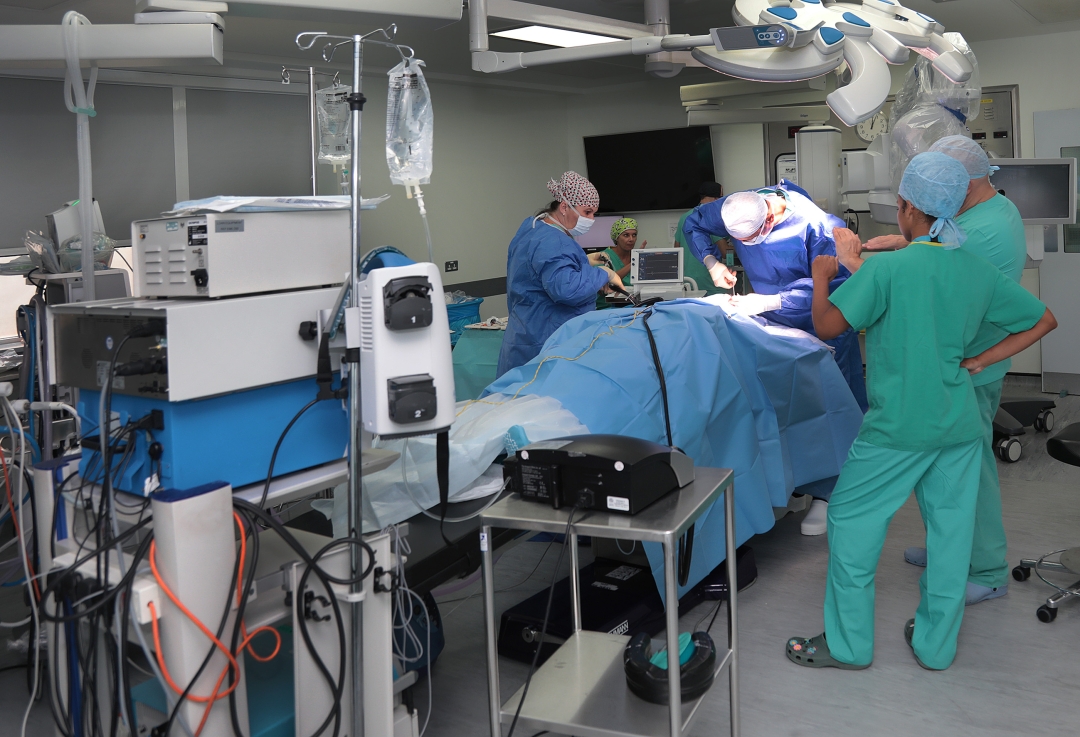 GHA's First Cochlear Implant Operation a Success
The GHA is pleased to confirm that the first cochlear implant operation to be conducted in Gibraltar has been successful. 
A statement continued: "There are significant advantages to this procedure being available locally, which completely removes the need for patients to spend long periods of time – up to 4 months – in the United Kingdom during the post operation and switch on phases. When the operation is done locally, the patient will be discharged on the same day post-operation and will have their full support network of family and friends, and of the GHA, throughout. 
"Additionally, removing the need to travel back and forth to the United Kingdom via air reduces the overall time between the surgery and the switch on phases of the process, as patients were not able to travel via air due to the risks involved with changing pressures. The result is that the time between the surgery and switch on is vastly reduced to 4 weeks. 
"A cochlear implant is an implanted electronic hearing device, designed to produce useful hearing sensations to a person with severe to profound nerve deafness by electrically stimulating nerves inside the inner ear. An implant does not restore normal hearing. Instead, it can give a person a useful representation of sounds in the environment and help them to understand speech. 
"Use of a cochlear implant requires both a surgical procedure and significant therapy to learn or relearn the sense of hearing. This process takes time and practice, and involves significant inter- agency work to support the patient throughout their journey. Ensuring that the entire process can be completed in Gibraltar minimises the disruption to the lives of patients and their families, and allows the best possible post-operation support. 
"Gibraltar's first cochlear implant was undertaken in conjunction with a team of visiting Consultant ENT Surgeons from University College London Hospital: Director of the Auditory Implant Programme at UCLH Mr Sherif Khalil, who was the lead surgeon during the procedure, and Professor Shak Saeed. This relationship with UCLH has been developed over the last 18 months and the team have been working closely with the patient for a year to reach this point. The team look forward to being able to support more patients locally in the future, as well as developing further capacity to localise ENT procedures at the GHA." 
Consultant ENT Surgeon, Mr Julian Danino, said: 'Today is an important day for this patient, and for the whole of the GHA. It is an amazing feat for the whole team to have successfully completed a cochlear implant operation in Gibraltar. I look forward to continuing to work with this patient and supporting them on their journey.' 
The GHA Director General, Patrick Geoghegan, said: 'Today's successful surgery is a positive example of what can be achieved locally as a result of the Reset, Restart, Recover programme that saw the inauguration of the GHA's new ENT and Audiology Suite in February this year.' 
The Minister for Health, Albert Isola, said: 'I'd like to congratulate the patient and the fantastic ENT team at the GHA on this incredible success story. This is a prime example of how investing in the right things in the right way has direct positive results on patients and their families, who can now undergo treatment at home, in Gibraltar, instead of spending lengthy amounts of time in the UK.'