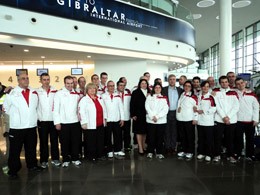 Hi everyone, an update for those of you who, for any number of reasons may not have been able to watch the Opening Ceremony.  Well, it all went Gangham style!!!! honest.
 
There was one special moment during the parade of athletes when Gibraltar, led by a dancing Virginia caused the American commentator, Jason Lee to exclaim with a delighted laugh "Well look at her, she's ready to go!"  That's our girl...
GO VIRGINA and all the team.
 
The ceremony was a delightful mix of beauty, grace, colour, dance and Korean music, embodying the theme "co-existence and harmony".